September 1, 2023 | 2:36 pm
Financial management is at the heart of any business and is one of the keys to success. Thus, hiring a CFO sounds like an excellent place to start, but some common misconceptions about them cause business owners to hesitate to enlist their help.

Some of these misconceptions are thinking an accountant can replace a CFO, CFOs don't impact the business, or they can be expensive to hire.

A Chief Financial Officer or CFO drives your company forward by managing the entirety of your finance function. Some businesses believe a CFO is unnecessary because of the myths and misconceptions surrounding the role, but they play a big part in ensuring your finances are in order.

After all, small businesses need proper financial guidance to propel success, which they can get when they hire a Chief Financial Officer or CFO.

Read on to debunk the most common CFO misconceptions and learn what the role is actually about. This guide will also answer your questions on why and when you should hire a CFO!
A Chief Financial Officer or CFO is a senior executive who manages all the financial aspects of a business or company.

Business owners sometimes confuse CFOs with accountants and bookkeepers. However, they all play different roles. Accountants or bookkeepers mainly handle and process vital financial data, ensuring company compliance. Meanwhile, CFOs are more involved in strategic planning and decision-making. They help create company goals and monitor KPIs to ensure the business stays on track.

Additionally, CFOs are responsible for evaluating financial risks and opportunities for the business. With their expertise, they advise the CEO and the board in crucial financial matters such as making capital investments, fundraising, and offering equity compensation.

CFOs also establish the necessary procedures and policies regarding the company's finances, including cash flow tracking, financial reporting, invoicing, payment collection, payroll processing, tax compliance, etc.

CFOs should become your go-to expert in all corporate finance matters. Having a CFO is a big game-changer and can heavily influence your company's success, especially since finance touches all other functions in a business.
What are the common misconceptions about CFOs?
Regardless of how beneficial hiring a CFO is to a company, many small business owners still need to be convinced to get one because of numerous CFO myths.

Here are some common misconceptions about CFOs that we'll debunk one by one: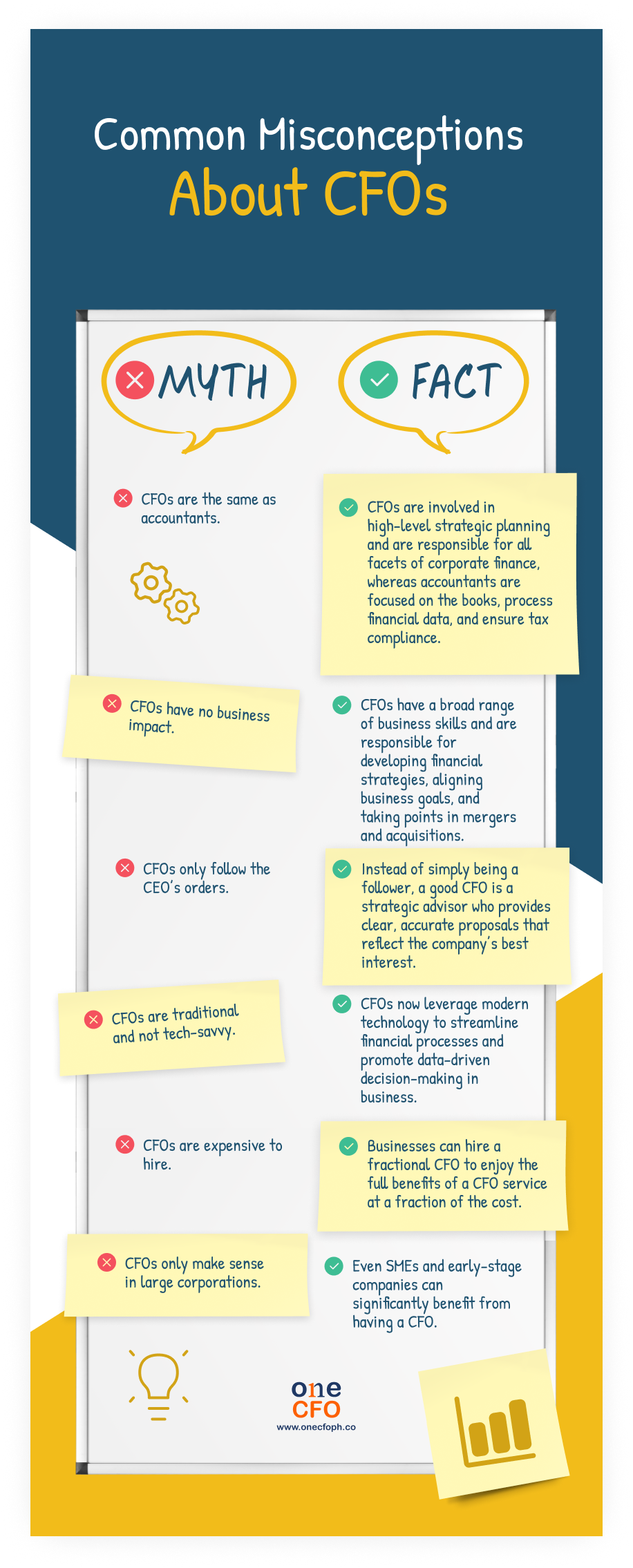 Misconception #1: CFOs are the same as accountants
The most common misconception about hiring CFOs is that they're no different than accountants! However, it's essential to know that accountants and CFOs play different but complementary roles in the business.

Accountants are typically responsible for financial reporting, financial statement preparation, accounting reconciliation, payroll, and compliance-related concerns.

Meanwhile, CFOs are responsible for high-level matters such as investor relationships, budgeting and forecasting, cash flow management, etc. CFOs use the financial reports and data that accountants organize to provide insights and recommendations to the company's CEO.

Moreover, CFOs are more involved with the operations and inner workings of the business, making them great strategic advisors for the company.
How do accountants and CFOs complement each other?
As mentioned, CFOs are responsible for high-level tasks related to strategic planning for the company. To do their job correctly, they will need the support of accountants and bookkeepers, who can provide them with the financial information they need.

Accountants and bookkeepers process and submit financial data involving receivables, payables, inventory, etc. They aid in creating financial statements and documents, which help a CFO understand and give recommendations on how the business can better manage its cash flow, resources, and other financial assets.

Furthermore, accountants handle tax returns, audit support, and other compliance requirements. They also follow and maintain the internal controls set by the CFO to ensure the company's financial processes run smoothly.

One person may initially be the CFO and accountant for small businesses or SMEs. But as your business grows, your finance function can no longer be handled by a one-person team, which means you'll need to delegate some responsibilities to the right expert.
Misconception #2: CFOs have no business impact
Given all the roles and responsibilities of a CFO, the assumption that they don't impact the business could not be further from the truth.

Aside from being good with numbers, CFOs are known for their broad range of skills and good business acumen. They are involved with business strategy, mergers, acquisitions, and goal alignment, impacting the business. Their skill in crunching numbers allows them to develop strategies and influence decisions that affect the company's operations.

They are also experts in risk assessment and consider the success of all stakeholders in the company in their decision-making. Like the CEO and other senior roles, CFOs drive the business.

Additionally, CFOs maintain a good workplace culture and should exemplify good leadership skills, especially to the finance team. As one of the leaders in the company, CFOs should foster teamwork and take part in developing the skills of the people they manage.

The vast network of a CFO also helps a company build good business relationships with suppliers, banks, investment firms, creditors, and other financial institutions. A CFO can make acquiring funds easier and help you get the best deals in the market.
Misconception #3: CFOs only follow the CEO's orders
Another misconception about CFOs is they simply follow the CEO's orders and have no say on what is best for the business. On the contrary, CFOs also serve as the CEO's strategic advisors.

Aside from being the sounding board of the CEO's business insights and ideas, CFOs advise on the best action for all parties involved, including the stakeholders.

The same applies when hiring an independent or outsourced CFO for your company. With an outsourced CFO, you can be sure they'll stay objective in their decision-making and consider all parties before giving their guidance and proposals.
Misconception #4: CFOs are traditional and not tech-savvy
Many believe CFOs are too conservative and stick to traditional accounting and bookkeeping methods. However, a good CFO can adapt to technology and maximize it to the company's advantage.

Many new strategies, tools, and software are released here and there, all designed to make work easier and faster. An example of software CFOs trust is Carta, which helps startups manage equity more efficiently.

CFOs leverage modern technology to streamline business processes, create more accurate reporting, and introduce better strategies.

Technology also aids CFOs in making data-driven decisions, which reduces risks in business and improves the accuracy of financial forecasts.
Misconception #5: CFOs are expensive to hire
Hiring full-time employees can be costly for small businesses, especially when hiring for a senior management position like a CFO.

The average salary of a full-time CFO in the Philippines can exceed ₱200,000; some CFOs may even ask for equity when they transfer to your company. The amount you need to offer may increase if you recruit your CFO from a big corporation.

On top of the salary, you'll also need to consider the recruitment costs, like advertising the open role, interviewing the candidates, and sometimes using a recruitment agency. Additional costs for the perks you will provide your CFO include insurance, health coverage, bonuses, etc.

Fortunately, you don't necessarily need to spend a lot of money if you want to hire a CFO. Instead of getting a full-time employee, you can outsource a CFO for a fraction of the cost.

An outsourced CFO, also known as a fractional CFO, performs the responsibilities of a regular CFO part-time. They provide strategic leadership, build financial systems, and handle reports and forecasts.

If you only need a CFO for specific projects or to solve short-term financial problems, a fractional CFO can still help without the long-term commitment.

In short, hiring a fractional CFO means you'll get the full benefits of a CFO service without hurting your cash flow. A big win for your business!
Misconception #6: CFOs only make sense in large corporations
A common misconception about CFOs is that they are only hired or found in large corporations. While it's true that big companies typically need a full-time CFO to manage their finance department, small and mid-sized businesses can significantly benefit from having a CFO, too!

The only difference between hiring CFOs in large companies and SMEs is that outsourcing a fractional CFO makes more sense for the latter, especially since they have a tighter budget.
What are the benefits of a fractional CFO?
A fractional CFO is a cost-effective solution for small businesses that want to build a more robust finance function and need strategic insights to grow.

Having a fractional CFO to guide you in the early stages of a business will significantly set you up for success since you're leveraging your CFO's broad range of skills. Fractional CFOs are known for their vast experience from serving many other clients. You may even outsource a CFO who specializes in the industry you're in.

Even if you already have a finance team in place or an in-house CFO, a fractional CFO can still serve as your team's partner and source of a fresh and outside perspective. Fractional CFOs can also train your team and teach them how to be more strategic.

Their experience partnering with multiple organizations also allowed them to gain deep knowledge and expertise in solving financial problems small business owners face.

Furthermore, you can leverage your CFO's connections when looking for new clients, customers, investors, or deals with creditors.

Watch this video to get more insights on the role of a CFO:
After debunking the common misconceptions about CFOs, it's now more apparent than ever that hiring a CFO or a fractional CFO is highly beneficial to your small business. The question is, when should you outsource one? Here are some signs: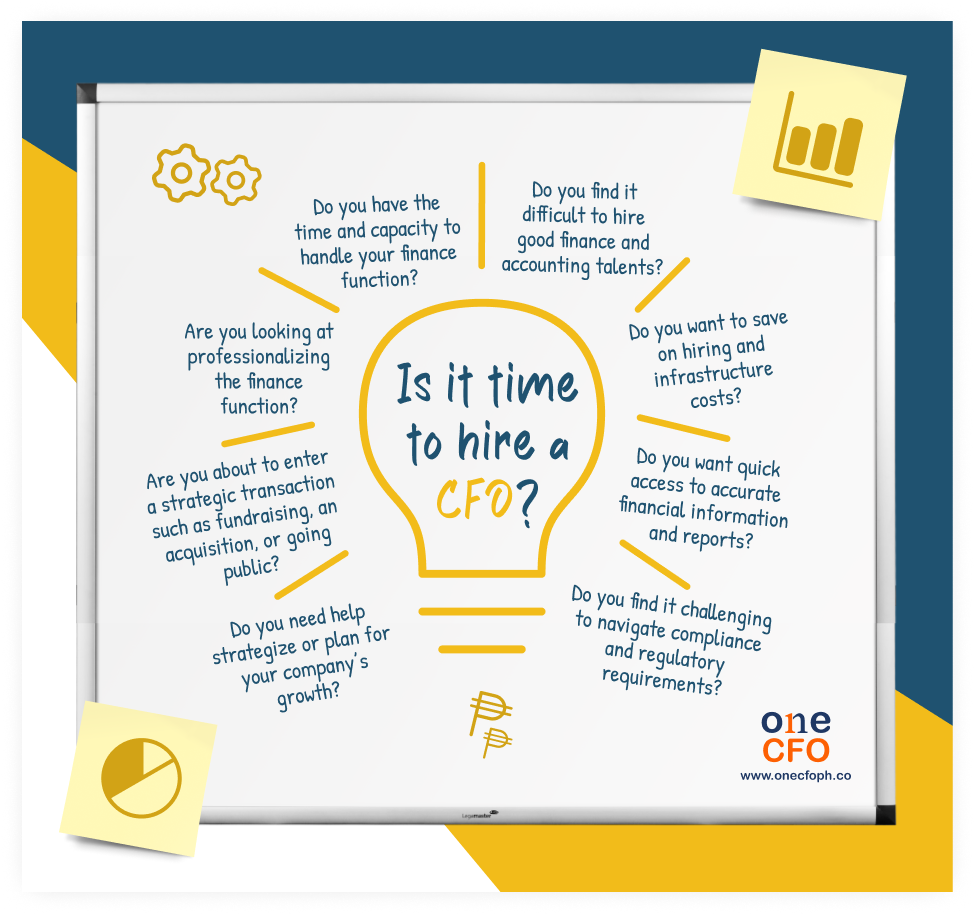 You no longer have the time and capacity to handle your finance function. If you have too much on your plate and your finances are starting to become an afterthought, you should get the help of a CFO.

You find it difficult to hire good finance and accounting talents. CFOs can provide the expertise you need in all facets of finance and train your finance team to ensure they're performing as expected.

You want to professionalize and improve your finance function. Hiring a CFO enhances a company's financial process, making it more robust and reliable.

You want to save on hiring and infrastructure costs. Outsourcing a CFO saves you money from hiring an additional full-time employee and all the expenses that come with it.

You are about to enter a strategic transaction such as fundraising, an acquisition, or going public. Most business owners need to become more familiar with these high-level financial transactions and need an experienced CFO to oversee them.

You want quick access to accurate financial information and reports. Tech-savvy CFOs efficiently provide data by navigating new software programs and technologies in the market.

You need someone to help strategize or plan for your company's growth. CFOs are strategic planning and decision-making experts who push your business to greater heights.

You need help navigating compliance and regulatory requirements. CFOs are constantly updated with the industry's best practices and financial regulations, ensuring your company will stay compliant and always in business.
If you can relate to any statement from the list, it's time to get up and look for a CFO to meet your business needs. You do not need to hire a full-time CFO if you are on a tight budget. The key is to outsource and hire a fractional CFO.
Fortunately, you don't need to look far and wide for a reliable CFO service because OneCFO is here!

OneCFO provides small businesses like yours with rich and agile CFO services, which include setting up your company, financial modeling and valuation, fundraising support, managing your finance function, business reviews, forecasting, and budgeting.

As your partner for growth, OneCFO takes the time to understand your business and develop tech-enabled solutions to propel your business to success. Furthermore, OneCFO also offers payroll, bookkeeping, and tax services, making it a one-stop solution for all your finance needs.

Subscribe to OneCFO now or contact us at [email protected] to learn more!
---
Read our disclaimer here.