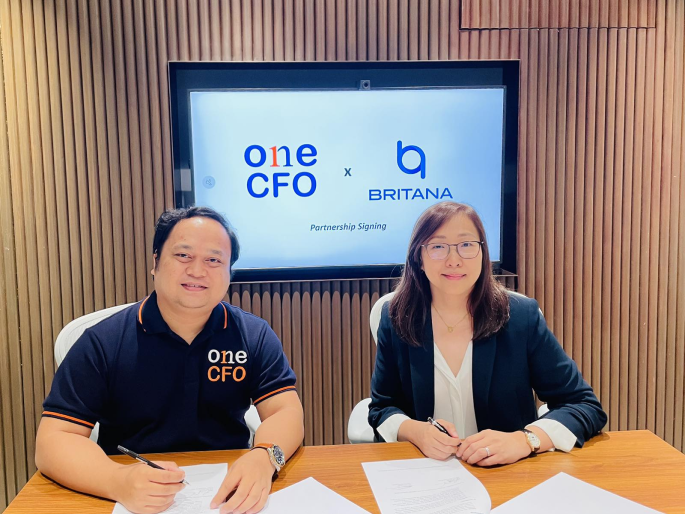 OneCFO Founder & CEO Jay Olos and Britana Founder & CEO Ana Yang-Calubad
OneCFO, a fast-rising fractional CFO services and CFOTech company partnered with Britana, the no-code cloud-based full-suite Enterprise Resource Planning (ERP) solution, to help digitize and scale small and medium-sized entities (SMEs) in the Philippines.

The partnership aims to provide an all-in-one package of top-notch finance process outsourcing combined with an agile, customizable, and budget-friendly ERP solution for SMEs in the country.

"At some point in their growth journey, SMEs outgrow their simple cloud-based accounting systems like Xero and Quickbooks. We have seen this happening to some of our clients, and we've been on the lookout for an SME-friendly ERP solution that addresses the operational needs, agile implementation requirements, and budgets of SMEs. Britana ticks all the boxes," explains OneCFO Founder & CEO Jay Olos as to why they chose to partner with Britana.

Founded in 2017 by veteran software engineer Ana Calubad, Britana's initial service offerings include IT consulting, ERP consulting, managed web hosting, and IT infrastructure outsourcing.   In 2019, the company expanded its services to include web and mobile development paving the way for the development of Britana ERP.  Britana ERP is a no-code, full-suite, cloud-based ERP that automates and integrates all the business functions such as procurement, warehouse management, sales, finance, and accounting.

"We are excited to partner with OneCFO.  I believe that our collaboration brings together two industry leaders with complementary strengths and a shared vision of wanting to help SMEs improve the way they run their businesses.  I'm confident that this partnership will help accelerate digital transformation and create value for our customers that exceed their expectations.", says Ana Calubad, Britana Founder and CEO.

OneCFO is a tech-enabled company that provides fractional CFO services and finance business process outsourcing to SMEs and fast-growing startups in the Philippines. Founded in late 2022 by veteran tech CFO Jay Olos and accounting & BPO industry executive Limuel Cornejo, OneCFO not only provides fractional CFO services to SMEs and startups, but it is also building the technology for bookkeepers, accountants, accounting firms, and BPO companies.

SMEs comprise around 105,000 businesses in the Philippines, contributing to around 35% of GDP.
Contact us now!
---
Read our disclaimer here.